Posted by Blog Master on 9/3/2022 to
News
Welcome to Our New Website!
Thank you for visiting our Brand New Scale Model Masterpieces website store.
In July, 2009, DEBen LLC has purchased the products including but not limited to all kit master
patterns, molds and drawings know also known as "Thomas Yorke Enterprises & Thomas A. Yorke Ent." and all other entities used during this period prior to the year 2000 and formed the Scale Model Masterpieces (SMM).
The resurrection of this craftsman kit line was not our original intention in purchasing York Enterprises. I have constructed many hundreds of craftsman kits for customers since the late 1970s. But my original passion was modeling a kit and giving it a realistic, unique look such what I did with George Sellios' G. Wilicers Manufactory kit. A week or so after I had sent George an image (shown) I received a letter from George asking, "Richard, where did you find the prototype structure of my kit?". I called George explaining to him it was no a prototype structure and we both had a good laugh.
We're making great progress on the O Scale and S Scale corroborators tooling. The current plan is to package both2" c 6" which will make the verti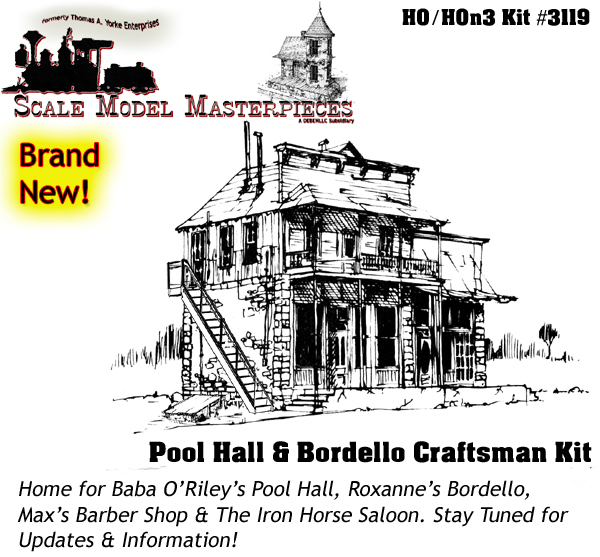 cal dimension 8 scale feet in O scale and just over 10 feet in S scale. Corrugated material will be available in both silver and tan (weathered). I probably avoided corrugated roofing because the hassles of trying to make alumna material look .realistic. This material s awesome! Did you could earn a $2500 Referral for sending someone to us that purchases this business? So passing on this Newsletter to your friends is the easiest way to share with your friends and possibly earn you some big bucks!
Have a safe & great Labor Day weekend! Thank you very much for your continued business. We hope to one day see you in the Hobby Room...etire.
We hope that you will find our SMM products of the same quality and caliber of our Doctor Ben's products and as always, if you like our products, please tell your friends. If not, please let us know why!
Product Spotlight
How-To Technique: Palletized Products Posted by Richard E. (Ben) Bendever to Tips & Techniques
I will be the first to confess that this technique is NOT the construction of a co
mplete pallet. This technique is to "create" the illusion that the detail/stack is resting on a pallet. For this How To Technique, I will use HO scale 2" x 4"s about 9/16" long for the risers which enable a forklift or pallet jack to get under the pallet to lift it and move it. Continued Here ...
Wooden Barrels/Casks (10pcs)
Scale Model Masterpieces HO, S, & O
Description for this item:... Wooden Barrels/Casks (10pcs)... SCALE MODEL MASTERPIECES O/On3/On30/1:43/1:48-Scale... SMM Natural Resin Architectural, Locomotive, and Detail Parts for Model Railroading & Scale Modeling are 'unfinished, often, unfinished parts that typically have multiples of the same item in the... Part Number: SMM9048
Thank you for for your visit!
Click here for the DEBenLLC Facebook Page - Friend Us Here!
Click here for the DEBENLLC Fan Page - Like Us Here!
Thank you for your business! Please tell your friends; it's our only advertising. Sincerely, Debbie & Richard Bendever
And to go to the Original DeBenLLC website ...CLICK Above image!
TOP